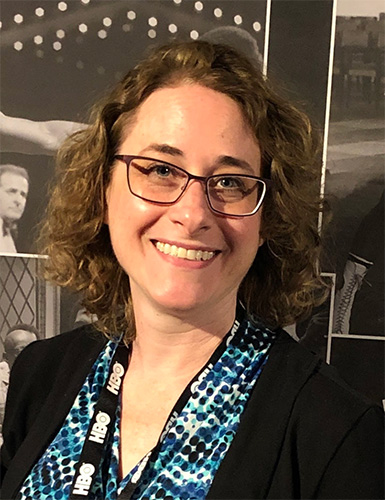 Bari Winter. At the HBO premiere party for the documentary What's My Name: Muhammad Ali. Bari's husband, Mandell Winter, was supervising sound editor on the project.
Hi! I'm Bari Winter, and I'm an editor. I enjoy a good puzzle and editing is another puzzle for me to solve. I enjoy the process of taking the pieces to see how they fit together to tell the best story possible, and bring the audience some joy through telling stories that are funny, inspiring, meaningful, and relatable.
As an editor, you have to spend a lot of time managing many personalities, building relationships, communicating, and collaborating. I am happy to collaborate in the room with you. I also understand how busy producers and showrunners can be, so I can take your notes and address them on my own. Then communicate my work with you in a clear, concise manner. I learned early in my career how important these skill sets are in the edit bay, and in career building.
I have extensive experience in scripted comedy and dramedy as Editor and Assistant Editor. My scripted editor credits include an episode of ABC's The Middle, a co-editor credit on CBS's In the Dark and editor of 4 episodes of the Amazon semi-scripted series Breakfast with Grannie.
I also edited on unscripted and semi-scripted comedies including Comedy Central's Hot List, and Fox's In the Flow with Affion Crockett. Jamie Foxx was one of the producers on In the Flow. I was able to turn around his notes so quickly and precisely that he nicknamed me Ginsu (like the knives)!
I have also cut scenes and gag reels on other shows I have assisted on. Part of my job as an assistant editor is to watch down all the dailies to prep them for the editor. Scouring those dailies taught me that there is so much value from the time the camera starts rolling until the camera cuts. Having cut several gag reels for several seasons of The Middle, I found so much gold in between the takes.
Some other notable shows that I have assisted on recently are NBC's Bluff City Law, HBO MAX's Doom Patrol, ABC's Once Upon A Time, and Netflix's Dead to Me.
In my free time, I love photography, spending time with my husband and daughter, yoga, and my Peloton bike. I will be hitting my century ride by the end of 2020! As they say on many Peloton workouts, Together We Go Far.
I am also the administrator of the Industry Happenings Facebook group, and a volunteer on the Editors Guild Women's Steering Committee.